Websites based on the Smart Theme Woo theme have a list of production-ready sections that offer up to 5 carefully designed and thoroughly tested variants to choose from. These sections are:
● Header
● Footer
● Homepage products
● Single product page
● Category page menu
● Mobile menu
With the built-in Customizer, you can easily switch to a different header layout or choose another appearance of your single product pages.
To help you track how visitors interact with your website and understand what section type converts better, AliDropship dev team developed an innovative analytics solution - the Smart Theme Analytics add-on. It offers valuable stats on user behavior you can use to maximize your online store performance.
With the Smart Theme Analytics add-on, you can learn which section type performs better on your website by running tests. A test shows different variants of the same section to different website visitors at the same time.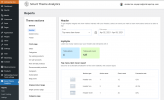 If you're interested to try the Smart Theme Analytics add-on before we release it to the public and shape its development, feel free to send me a pm with your Smart Theme license key to request an early access to the beta program.
As a beta tester, you will be required to provide your feedback. Make sure you have free time to test the add-on. License keys of those beta testers who do not share their feedback will be banned.
To download the add-on, please visit
this link.
You will find the detailed guides
here
.
Last edited by a moderator: