AdsPower is a multi-login antidetect browser. It provides users separated browsing environments for each account to protect them from unauthorized browser fingerprinting. AdsPower is a "must-have" tool for privacy concious users, as well as online marketing, e-commerce, advertising and web data mining professionals.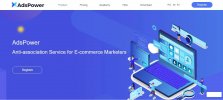 Pricing plans

​

Free plan: permanantly free (2 browser profiles)

Paid subscriptions: from $10

Customized plans: 600000+ browser profiles
Referral program

​

Earn 50% of your referrals' first order in the first month of use
Core features of AdsPower

​

● Bulk management of multiple accounts on multiple platforms

You can import/export a batch of accounts using logins and passwords or cookies on e-Commerce platforms such as Amazon, eBay, Shopify, etc. Also, bulk account creation and management and ad optimization on social media such as Facebook, Instagram, LinkedIn, Twitter, Tinder, Pinterest, Tik Tok and VK is supported.

● Anti-fingerprinting

AdsPower provides an independent browser profile for each account with different fingerprints, including time zones, WebRTC, locations, languages, User Agent, fonts, resolutions, Canvas, WebGL images, and so on.

● Automatic IP matching

AdsPower can be integrated with 3rd party solutions such as HTTP, HTTPS, and SOCKS5. Also, it can automatically match browser location settings with 911s5, Oxylabs, and Luminati residential proxies.

● Browser Automation

Any repetitive task can be automated in AdsPower. You can automate Facebook account checks and management, as well as other operations, through a selection of automated API.

● Team collaboration and efficient authorization

AdsPower is designed for teams of all sizes. In teamwork plans, you can grant access to team members through three authorization levels (administrator-manager-member) to allow them to manage the accounts.

● Professional customer service and technical support

AdsPower provides detailed tutorial videos and graphics, professional online customer service, and distance technical support to help you to learn about this program.
Contacts​
- Facebook:
https://www.facebook.com/adspower.en
- Telegram:
https://t.me/adspoweren
- Business:
business@adspower.net
https://t.me/celineyue
- Support:
support@adspower.net
https://t.me/AdsPowersupport
Last edited: