AdsPower RPA is a new feature of AdsPower that automates processes of managing multiple accounts. It frees you from the most mundane and repetitive tasks and processes.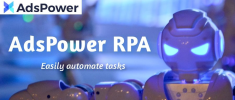 What is RPA?
RPA (robotic process automation) is an application aimed at automating business processes. Using RPA tools, a company can configure software, or a "robot," to capture and interpret applications for completing any automation tasks. RPA provides enterprises with the ability to reduce human error and improve efficiency.
AdsPower RPA is particularly ideal for repetitive tasks. With the help of this new function, you can handle numerous tasks like automatically filling out web forms, operating websites, drawing traffic to your site, warming up Facebook accounts, browsing products, publishing reviews on Amazon, adding products to the Amazon cart, and so on. All created processes are executed locally, so the data generated in the AdsPower app will be stored locally instead of being synchronized across multiple devices.
Use cases of AdsPower RPA

· Case I: warm up a bunch of Facebook accounts
We all know that aged and real-looking Facebook accounts are the best option for Facebook marketing, no matter if you're to post in groups or to deliver ads. Now the problem is, if you happen to have a lot of Facebook accounts, how can you warm them up as quickly as possible? Manual process is out of the question – too slow and inefficient.
Solution:
AdsPower RPA can help you warm up a large number of Facebook accounts efficiently and without interruption by automating these processes: liking posts, browsing news, creating pages, and publishing posts.
How to do it?
1.Open the AdsPower app and find "Processes" under "RPA".
2.Click on "Create a task flow". AdsPower provides some task templates for users, so you can simply select one of them and change the necessary part as you wish.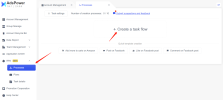 3.When the task is created, go to "Account Management" and select accounts, which you'd like to operate using RPA.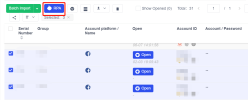 4.Click on the blue "RPA" button and choose the task you want to run.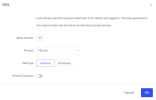 P.S. If you need to schedule the task or run it everyday, it's recommended to run scheduled tasks.
· Case II. Add to cart on Amazon
Amazon has very strict rules about accounts and stores. But to grow sales, multiple accounts are in need to manage your online business. Every Amazon business owner wants to rank their products higher on Amazon. To make this done, a great number of accounts will be used to add the products to cart and boost feedback rating, in the meantime keyword optimization is also necessary for increasing the conversion rate and the listing strength.
Solution: AdsPower RPA is good at dealing with large workloads. There are occasions when the workload abnormally increases and the work has to been done manually. But AdsPower RPA saves you the trouble by automatically browsing products and adding them to the cart on Amazon. This method proves to be precise and efficient!
How to do it?
1.Same as what we do with Facebook accounts, we need to create a work flow of adding to cart in AdsPower.

AdsPower RPA is now available for all paid subscriptions within the latest version! Questions? Comments? We'd love to hear from you! Leave a comment in AdsPower app: